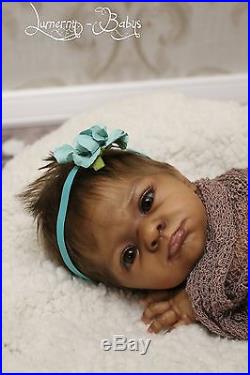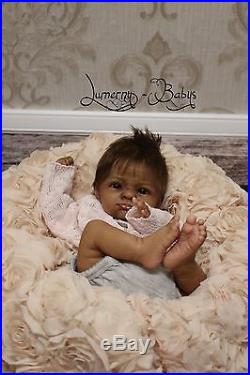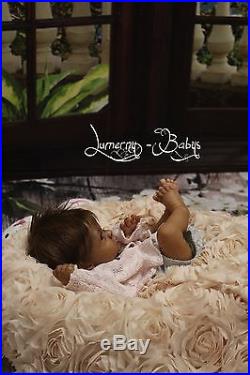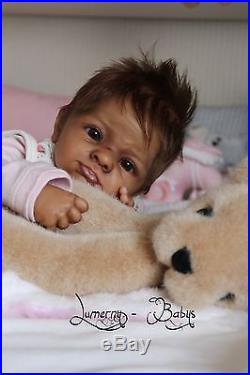 Herzlich Willkommen bei den Lume. Amelie's Lumerny Babys by Reborn Artist: Amelie Hundt. Herzlich Willkommen zu meiner Auktion. Ich möchte mich kurz vorstellen. Mein Name ist Amelie Hundt, ich bin 33 Jahre alt und lebe. Meiner kleinen Familie im schönen Kalefeld. Das Rebornen hat mich seit 2010 fest im Griff und ich mag es nicht mehr missen. Meine Babys haben überall auf der Welt schon ein neues zu hause gefunden und ich erfreue. Mich immer daran, wenn die neuen Mamis mir Bilder schicken. Ich möchte darauf hinweisen, das es jedes Reborn nur ein einziges Mal von mir gibt und. Ich leider keine Aufträge mehr annehme. Es gibt im Moment wieder viele Spaßbieter, sehr viele Namen sind bekannt. Wenn jemand von ihnen. Bietet, wird er kommentarlos gelöscht!!! Ich wünsche ganz viel Erfolg und Freude beim Bieten. Ich biete Ratenzahlung an, bitte sprechen sie mich vor Gebotabgabe gerne an. I want to introduce myself. My Name is Amelie Hundt , i´m 33 years old and live with. My little family in the beautiful Kalefeld. The reborning guilty myself since 2010 under control and i do not like to miss. My babies have been found all over the world a new home and i enjoy always remember, when. The new mommies send me pictures of the Reborns. I would point out that only once there is any Reborn by myself and i unfortunately do not. Accept any more custom orders. Anyone of them providers, it will be deleted without comment!! S eit Juli 2015 bin ich stolzes Mitglied der IIORA. Ich stelle ihnen heute. Prototyp Rosa von Karola Wegerich. Vielen Danke meine liebe Karola für dein Vertrauen, das ich die super süße Rosa als Prototypen rebornen durfte. Ich bin sooooo verliebt in die kleine Maus <3 Ich hatte so viel spaß beim Rebornen, sie ist einfach perfekt modelliert. Rosa ist das neuste Kit von Karola Wegerich und so wahnsinnig lebensecht modelliert. Februar 2017 im Shop von Karola Wegerichs Zuckerschnütchen. Sie ist limitiert auf nur 777 Stück. Es hat mir so wahnsinnig viel Freude bereitet, viele Fotos zu machen um sie euch nun hier zu präsentieren. Ich hoffe sehr, das sie hier eine neue liebe Mami finden wird : Hier ein paar Details zu Rosa Sie hat 3/4 Arme und 3/4 Beine und kann somit im kurze Kleidung tragen. Sie hat einen wahnsinnig süßen Gesichtsausdruck, diese kleine Zuckerschnute ist zum knutschen. I want to introduce the PROTOTYPE of the new Kit Rosa by Karola Wegerich. This Kit is amazing lifelike in every way. She is so real, you cant belive that this Reborn is a doll. She is so tiny and cute, you always want to kuddle her She has 3/4 Arms and Legs and can wear short clothes and it looks fantastic with her shubby legs. She has a brown suitable Body special made for her. Preorder for this amazing kit Rosa by Karola Wegerich starts on February 7th on the Shop of Karola Wegerichs Zuckerschnütchen she is limited to 777 pieces , dont miss her. I hope you enjoy looking and if you have any questions, feel free to ask me. 44 cm / 17 inch. Entfetten und reinigen der Vinylteile - in realskintechnik, nach meinem eigenen Stil, wurde nun mit Genesis gefärbt - es dauert viele Schichten, um ein möglichst echtaussehendes Hautbild zu erschaffen - jedes Reborn hat seine individuelle Färbung erhalten, daher wird es nie ein zweites Baby geben, welches genau so aussieht!!!!!!! - die Farben werden im Ofen getrocknet und somit haltbar gemacht - Adern, Rötungen und Unreinheiten machen das Hautbild realer - Versiegelt wird mit einem Medium von Genesis, um die Farbe gegen Ausblassen und Abrieb zu schützen ER FÜHLT SICH NICHT RAU AN ; - Finger und Fußnägel wurden realistisch gestaltet und versiegelt. Die Lippen wurden ebenfalls möglichst naturgetreu gestaltet und bekamen einen Feuchteffekt - Nasenlöcher wurden nicht geöffnet, nur schattiert und bekamen ebenfalls einen Feuchteffekt. Degrease and clean the vinyl parts - In realskintechnik , according to my own style , was now colored with Genesis It takes a lot of layers to create a real looking as possible complexion - Each Reborn received its individual coloring , so it will never be a second baby give that looks exactly The colors are oven dried and thus preserved - Veins , redness and blemishes making the skin more real - Is sealed with a medium of Genesis in order to protect the color against abrasion and fade out - Finger and toenails were realistically designed and sealed - The lips were also designed as naturally as possible and got a dampening effect - Nostrils were not opened , only shaded and also got a dampening effect - he is not rough. Sie bekam Schokobraunes HP-Babylocks Mohair im Microrootingverfahren eingepflanzt. Es ist sehr feines Mohair, ständiges Mütze ab und aufsetzen, sowie ständiges bürsten, können das Haar schädigen. Es ist super glatt - Wimpern wurden einzeln gerootet - Augenbrauen wurden fein gezeichnet. She got chocolate brown HP-Babylocks Mohair , you can tweak it pretty : it is super straight - Lashes were rooted individually - Eyebrows were penciled. Dunkel grün/braun Lauscha Glasaugen. Dark green /brown Lauscha Glass Eyes. Der Körper wurde mit ungiftigen Materialien gefüllt: - Glasgranulatsäckchen -Babyspeck (weiches Gummigranulat) -Füllwatte - Edelstahlgranulatsäckchen - Arme und Beine werden mit Glasgranulat und Füllwatte gefüllt - Köpfchen wurde auch mit Glasgranulatsäckchen und Füllwatte gewichtet, man muss es stützen wie bei einem echten Baby auch - man kann sie in jegliche Babypositionen legen. Meine Reborns werden nicht mit Steinen, sonstigen Resten oder Sand gefüllt. Ich lege Wert auf qualitativ hochwertige Materialien und kaufe sie in den dafür vorgesehenen Shops ein. Gerne stehe ich ihnen für weitere Fragen zur Verfügung. The body was filled with non-toxic materials: - Glass granules sachets -Babyspeck (Soft rubber granules) - steel shoot - Polyfill - Arms and legs are filled with glass pellets and polyfill - Head is weighted with polyfill and glass sachets. My Reborns are not filled with stones, other residues or sand. Sie kommt in der Kleidung, wie auf den Bildern zu sehen. Ich habe es mit viel Freuede und Sorgfalt für ihn passend ausgesucht. Ausnahmen sind Tücher, Decken und Haarbänder, diese dienen nur als Fotoaccesoires!!!! - Rosentrampler mit Shirt von Kanz - Sweetset bestehend aus Höschen und Langarmshirt - Schlafanzug in braun/rosa gestreift - Strumpfhose -Mütze, Söckchen und Kratzfäustlinge - Strickset bestehend aus Mütze und Jäckchen - ihren Magnetnuckel mit Schnullerkette Eine personalisierte Kuschelente mit ihrem Namen darf nicht fehlen Kuscheldecke und Plüschi sind immer mit dabei. It comes as seen in the pictures. (not included are headbands and blankets shown in the pictures, this are only photoaccesoires) I did it with care for them appropriately selected - Romper and Shirt - Trousers and shirt with hearts in pink - Tights - Cap, socks and scratch mittens - hand knitted jacket and cap All other Decorations which are not listet, are not part of this Reborn she has a magnet pacifier and a chain. (Warnhinweis zum Hochleistungsmagneten: dürfen nicht in die Nähe von Herzschrittmachern , Kreditkarten, Magnetbändern sowie andere elektronische Datenträgern kommen, es können Störungen auftreten). Alles andere dient nur zur Deko und ist nicht Bestandteil der Auktion z. Die Sahnebären und Duckie-Bären All other Decorations which are not listet, are not part of this Reborn Die Bilder wurden in natürlichem Licht oder mit Hilfe von Tageslichtlampen gemacht. Meine Bilder werden nicht per PC oder sonstigen Hilfsmitteln bearbeitet um sie zu verschönern. Nun wünsche ich ihnen viel Freude beim Anschauen der Bilder. I offer installment payments starting at an amount of 1000 pounds. The total amount may be paid in 3 installments. The first Rate must be paid immediately after the sale ended and is not refundable The 2nd Rate must be paid in 4 Weeks after paid the first Rate. The 3rd Rate must be paid in 8 Weeks after paid the 1st Rate. If you have any Questions, please ask!!!!! My Past Work, not part. Ich biete ihnen Ratenzahlung an, ab einem Endbetrag von 1000 Euro, diesen auf 3 mal zu zahlen, bitte sprechen sie mich vor Gebotabgabe gerne an. Die erste Rate muss direkt nach beendeten Auktion gezahlt werden und wird nicht zurück erstattet Die 2. Rate muss in 4 Wochen, nach der ersten Rate gezahlt werden. Rate muss nach 8 Wochen, nach dem die erste Rate gezahlt wurde, bezahlt werden. Bitte warten sie nach beendeter Auktion auf meine Zahlungsaufforderung, es kann sein, das ich die Versandkosten anpassen muss. Ich verschicke das Reborn Baby nur nach vollständiger erhaltener Zahlung versichert mit DHL. Bitte geben sie mir 2-3 Werktage Zeit, um ihr Baby reisefertig zu machen. Ab jetzt muss dieses sein!!!!! Spaßbieter tragen 25% des Verkaufspreises, dieses wird per Anwalt eingeklagt!!! Bitte nur bieten, wenn sie das Reborn wirklich wollen und es sich leisten können, ob Ratenvereinabarung oder Gesamtbetrag Bei Fragen bitte immer gerne bei mir melden. Ich bin Kleinunternehmer und muss daher kein Umsatzsteuer ausweisen gem. Template Design by Marisol Rose Designs. The item "LUMERNY-BABYS Reborn Baby PROTOTYPE Rosa by Karola Wegerich IIORA" is in sale since Tuesday, February 07, 2017. This item is in the category "Dolls & Bears\Dolls, Clothing & Accessories\Artist & Handmade Dolls\Reborn Dolls & Accessories\Reborn Dolls". The seller is "lumerny-babys" and is located in Kalefeld. This item can be shipped worldwide.
Character Name: Prototype Rosa
Brand: Karola Wegerich
Material: Vinyl
Doll Size: 18 in.
Skin Colour: dark-skinned
Eye Colour: dark green/brown
Doll Gender: Girl Doll
Hair Colour/ Shade: chocolate brown
Features: Artist Made
Country/Region of Manufacture: Germany
Type: Reborn Baby Doll


Posted in lumerny-babys and tagged baby, iiora, karola, lumerny-babys, prototype, reborn, rosa, wegerich by admin with

comments disabled

.