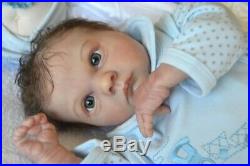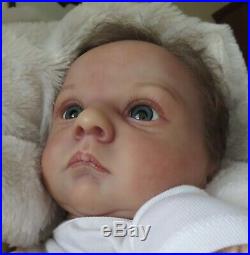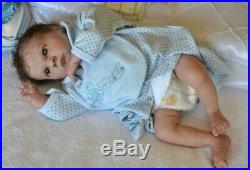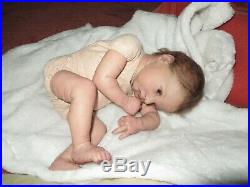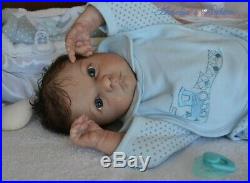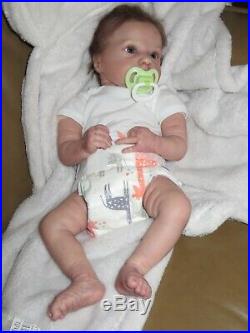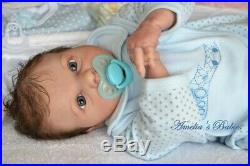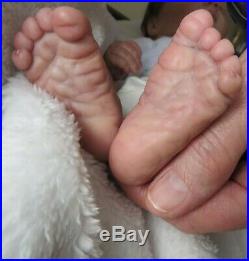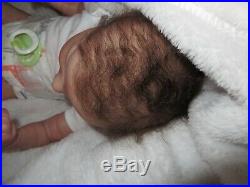 Gorgeous Reborn doll ASHER AWAKE German Glass Eyes & MR Mohair, Realistic RealBorn® Baby Condition is Used, Pristine. The last photo in the series of 12 is of the actual baby that was scanned electronically to produce a 3D image for the eventual production of the Asher Awake limited edition kit. And no, he isn't included in the listing! This "Asher Awake" reborn RealBorn® baby was created just for me by the exceptional reborn artist, Amelia Williams of Amelia's Babies. His birth certificate shows he was reborn on 8/12/2015. I have been collecting reborn baby dolls since 2008 and can whole-heartedly recommend Amelia's work. If you examine the photos under the high magnification option, you will be able to appreciate her perfectionism for yourself. I adopted Asher from his artist, Amelia Williams. Eyes, Lashes & Hair. Asher represents a newborn boy with a Caucasian, medium skin-tone and beautiful blue, hand-blown glass eyes from Lauscha, Germany. His lashes were applied. His soft, medium-brown mohair from Delta Dawn has a soft wave to it, giving it plenty of fullness and body. It will lie flat if you prefer to comb it that way. The hair is thicker on the center top, as you can see in the photos. The rooted hair, which is sealed inside the head with a waterproof glue, should be carefully dampened prior to gentle combing. Personally, I dampen my clean hands with a squirt of diluted conditioner, then moisten his hair with my hands. I don't want to spray any chemicals onto his "skin" or eyes. (photos 1,3, 7 & 10). Asher's arms are 3/4 vinyl, mounted on jointed connectors. His full legs are mounted with non-jointed, forward-facing body connections. This combination allows Asher to have his very natural-looking body positions. I will be happy to send you photos of his undressed body. When Asher was ordered I did not request a chest plate simply because I so rarely use the ones I have. At 19 length and approximately 4lb 8oz weight , he is a realistically weighted, cuddly reborn baby doll. He wears human baby clothes size newborn in most brands. This baby doll will "curl up" in your arms, putting a smile on your face. (photos 2 & 5). Asher came to me directly from his artist and has been displayed only in my non-smoking home. His vinyl "skin" has been gently wiped clean with a soft, clean cloth, free of fabric softeners and other chemicals. He has been safely displayed in my child-free home and has never been played with. Most of his time has been spent in a glass-fronted cabinet, keeping him dust-free and safe. Weighting and Stuffing Materials. Asher's limbs, head and cloth torso contain tiny glass beads secured in packets and in the sealed limbs as the weighting material. No sand, BB's, pebbles or other imaginative items. Asher is therefore safe to travel the world! Stuffing materials determine the softness of the body's feel in your arms, and the degree of stuffing determines how rigid the body will be. Asher's bottom was weighted with sealed packets of tiny glass beads, then the body was filled with premium poly-fill to create perfect newborn-baby flexibility. Although he is flexible enough to curl up, he can also sit in a relaxed pose without being supported. The faux doe-suede cloth body should never be exposed to water. Magnets and Age Recommendations. Reborn dolls are handmade collector's items and contain many small items such as magnets, glass beads and poly-pellets which could present a choking hazard to small children. Because they are more fragile than commercial dolls, reborns should not be handled by those under the age of 14 without supervision. Please Note: Other reborns and furniture shown in the photos are props and are not part of this listing. Only Asher and his clothing are included in this listing. PHOTOS: The only editing done to these photos has been cropping and re-sizing. I've combined my photos of Asher wearing only a t-shirt and diaper, taken today, with more professional-looking photos taken by his reborn artist, Amelia Williams, in 2015. My photos were taken with only natural daylight, in the afternoon, next to an east-facing window. You can see that he came out a bit more peach-colored than with my camera. I took his original body-slip photo (#5) at night with overhead room lighting. You may also notice that Amelia's painting techniques changed significantly between the two years of her creation of Dakota in 2013 (listed separately) and Asher. While many, many layers of Genesis Heat Set Paint, baked after each layer, were used for both reborns, her method of paint application evolved over time. The 11th photo is of 23″ Dakota and 19″ Asher sitting together last winter. Both were reborn by Amelia. Dakota is a very fair-skinned blonde baby reborn, while little Asher is a brunette baby with medium-to-light skin tones. And the most fun photo of all is the last one: The actual living baby whose 3-D image was captured electronically to create the Bountiful Baby RealBorn sculpt called "Asher Awake". More information is at the bottom of this listing. Please look carefully at the photos of reborn Asher as they are considered a part of his description. Asher will come home to you wearing the blue footed sleeper you see in the photos. This will protect his paint, and I will wrap him in a blanket and bubble wrap for even greater protection. Any additional outfits will be folded or rolled neatly, placed in a plastic bag, and used as cushioning for his head and body. If space allows, a companion toy will be placed in the box. Because strong magnets are a potential hazard to electronic devices, people with pacemakers are at risk around most reborns. I urge you to use caution when placing this reborn into someone's arms. This reborn has a magnet behind his lips to which his magnetic pacifier will cling. A magnet-containing pacifier will be coming home with Asher, along with his COA, artist-made birth certificate and care instructions. He will have the clothes seen in the photos as well as a surprise outfit. I will pay the excess myself. My goal is to have only buyers who are thrilled with their bundles of joy! I love sharing Asher's photos with you, so please ask me for any views of him that I have not included here that you might enjoy seeing. Thank you for visiting Asher's listing. Please visit my other listings of high-quality reborns as I attempt to gain control of my ever-increasing reborn doll collection. What is a RealBorn® baby? The answer from BountifulBaby. A RealBorn® is a REAL BABY REPLICA, created directly from computer photometric scans of a precious real baby (in this case a newborn baby boy). The beauty, innocence and soul of a young baby is captured like never before in these stunning, heaven sent creations – the most beautiful and perfect canvas ever offered to the reborn world! Virtually every sweet baby fold, fat roll and wrinkle of the arms, legs, neck, head, feet and hands are captured with this technology. Then small details are carefully checked to assure the detail will transfer over beautifully into vinyl. From the 3D printed prototype, the molds for the most perfect reborn artists' canvas (the RealBorn vinyl doll parts) are created. The item "Gorgeous Reborn doll ASHER AWAKE, COA, German Glass Eyes & MR Mohair, RealBorn" is in sale since Thursday, June 13, 2019. This item is in the category "Dolls & Bears\Dolls\Reborn\Reborn Dolls". The seller is "jackiejsnursery" and is located in Knoxville, Tennessee. This item can be shipped to United States.
Brand/Artist: Bountiful Baby
Custom Bundle: No
Modified Item: No
Doll Gender: Boy Doll
Ethnicity: Caucasian
Type: Baby
Country/Region of Manufacture: South Africa
Material: Vinyl
Doll Size: 19in &; 4.56Lb
Features: Handmade
Packaging: Custom


Posted in gorgeous and tagged asher, awake, doll, eyes, german, glass, gorgeous, mohair, realborn, reborn by admin with

comments disabled

.