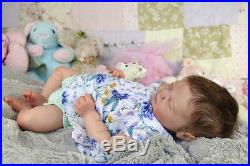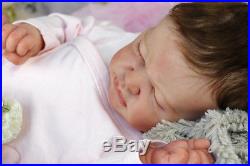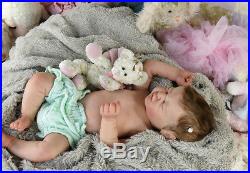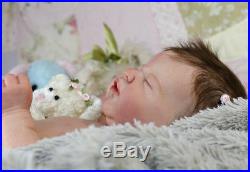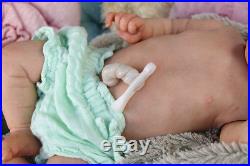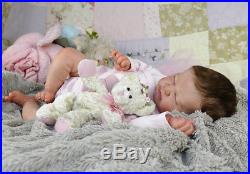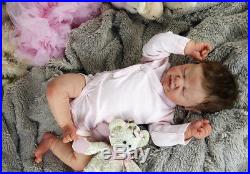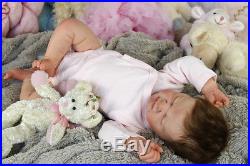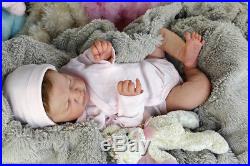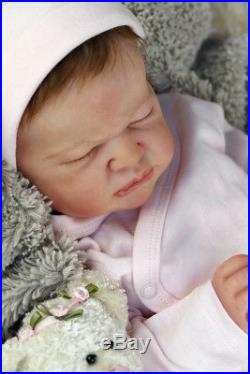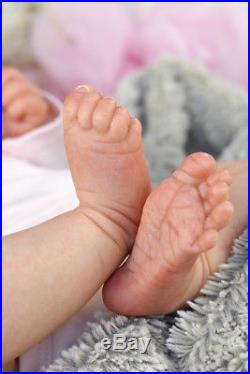 Angelic DREAM BABY Amazing Baby Girl Adelaide – Adelaide sculpted by Laura Lee Eagles Reborned by Crystal of Dream Baby Dolls. Please be Patient and Allow Graphics to Load – it is Worth the Wait. Dream Baby Dolls is pleased to introduce you. To a Special Little Girl.. Born November 18th 2018. 5 Pounds, 7 Ounces. Please note that the limbs on this baby will have open hands rather than closed, as I accidentally swapped them with a different kit. This baby will come home with the original limbs that belong to the Journey kit. I apologize for any confusion. An Exquisite One-Of-A-Kind Creation. This little girl has been created from the adorable, amazingly detailed and highly anticipated "Journey" kit sculpted by a truly amazing artist, the exceptionally talented Laura Lee Eagles. Through many hours of labour, she has been "reborned" from a lifeless doll kit to look just like a darling Newborn Baby Girl. Because each of my babies is an individual, One-Of-A-Kind creation, Baby Adelaide can never be replicated exactly. So if Adelaide steals your heart, don't let her get away. Baby's Features at a Glance. Ultra Micro-Rooted Premium Mohair in Gorgeous Chocolate Brown – this is the softest, most lustrous hair that is available anywhere. 19 Baby Girl with full vinyl arms and full legs for limitless dressing & posing options. Her diaper area is cloth, which allows for more poseability. Custom-designed jointed body created just for her proportions and unique body style. Amazingly Realistic Newborn Skin Tone achieved with Permanent Genesis Heat Set Paints and Lifelike Baby Skin texture – her skin is so real looking! A beautiful cotton floral dress with matching ruffled diaper cover, long-sleeved pink cotton diaper shirt with matching hat, Magnetic umbilical cord, and.. Baby Adelaide's photographs were taken in natural light, to best show off her coloring and realistic skin tones. Created by An Artist with 16 Years of Experience. I have been creating lifelike babies for sixteen years, (since February of 2002) and draw on my skills as a painter to create beautifully realistic skin tones, shading, and highlights. I pride myself on creating the most lifelike babies available, treasured heirloom pieces to be passed on to future generations. No expense was spared in the creation of this precious girl, I use only the highest quality materials and artist mediums to bring as much realism into each of my original creations. The hands in these photos are not the ones that will be on this baby, they will be open hands. Lifelike, Radiant Skin Tone. Like a newborn fresh from the bath, Adelaide's skin is radiant and soft. Using a special blend of durable genesis heat set paints, she was given an all-over new realistic skin tone; then each little crease and every roll of baby fat were blushed, shaded, and highlighted over a period of several days. I have given Adelaide wonderfully lifelike, lightly varying skin tones, which gives her skin such realism, you will need to stroke her soft cheek to see if she is real! I have also textured Baby Adelaide's skin, so that she has a beautiful realistic depth that simply cannot be duplicated! Not A Single Detail has been Overlooked. Her precious little nose has been carefully painted inside to give depth without compromising the integrity of her vinyl. A special body created just for Adelaide makes her soft and cuddly, with full vinyl arms and full front-loading legs for endless dressing and posing options. She has been carefully weighted to feel like a real little girl. Adelaide's nails have a just-clipped appearance and a slight sheen, just like a real baby's – they are not at all glossed or polished-looking. Each of the teeny finger and toe nails have been individually manicured using our special 4-step process. Adelaide's hair is one of her most striking features! Lock by tiny lock, beautiful Top-Quality, baby-soft hair in. Gorgeous Chocolate Brown, this. Premium Mohair was delicately rooted into her scalp using a tiny needle. Her hair has been rooted One Piece at a Time, with tens of thousands of Individual Roots, so that you can just see her little scalp peeking through, just like a newborn's. My babies have found homes all over the world. Baby Adelaide will Travel Home To You with. Brand New Cotton floral dress. With green diaper cover. Pink long-sleeved cotton diaper shirt. Magnetic Hair Bows & Pacifier (if desired). Dream Baby Dolls Reborn Care Guide. All items are brand new and of the highest quality available. Like all new babies, Adelaide needs to be gently cared for by a mature, loving mommy this is not the right doll for a young child. All of the Dream Baby Dolls are lovingly reborn by myself, a stay at home mom of 2 little Princesses. All sales are final. The item "Lifelike Reborn DREAM BaBy Doll Angelic Newborn Girl Journey NEW Adelaide" is in sale since Monday, November 26, 2018. This item is in the category "Dolls & Bears\Dolls\Reborn\Reborn Dolls". The seller is "dream*baby*dolls" and is located in Edmonton, Alberta. This item can be shipped worldwide.
Brand/Artist: Laura Lee Eagles
Doll Gender: Girl Doll
Featured Refinements: Reborn Newborn Doll
Ethnicity: Caucasian
Material: Vinyl
Doll Size: 19 in
Type: Baby
Country/Region of Manufacture: Canada


Posted in lifelike and tagged adelaide, angelic, baby, doll, dream, girl, journey, lifelike, newborn, reborn by admin with

comments disabled

.